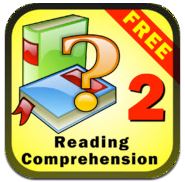 This reading comprehension app has twenty fictional stories about children's daily life. You get 4  stories for free called Kelly's Teddy Bear, Baking Cookies, Going Camping and Mike's New Glasses. If you want the other 16 stories you need to buy the full version for $1.99. When I upgrade on my iPad though, it actually cost $2.99.
Each story has about 150 words. Each story introduces new vocabulary and concepts, and is followed by a set of exercises that measure the student's comprehension. If a student can't read a word, they can touch the word and the word is played for them. The exercises include multiple choice questions, true/false questions and matching exercises that ask the student to match words or concepts with their definition, or create compound words.
The free version allows a student to sign in as a guest and records their progress. The full version  allows unlimited individual users, and provides detailed reports on each student's progress. The app can be configured to email the progress reports to a parent or teacher.
What I really like about this app is that you can create and add your own stories, along with images and questions. Students select create a story, enter a title, type their story and then they can create their own multiple choice questions, yes or no questions or create a vocabulary matching list.
AbiTalk, the creators of this app, offer the same app for each year level up to year 5.  I purchased both 2nd Grade and 3rd Grade Reading Comprehension apps.
Permission to use image received 24/3/2013 by Emmy support@abitalk.com