Spell Grid is a free iPad app that requires students to swipe over letters in the grid to create as many words as they can. Students are required to create a certain number of 6 5, 4 or 3 letter words. This app is great for higher order thinking.  Unfortunately the  app isn't available for Android but Android users may find Spellathon useful (also free).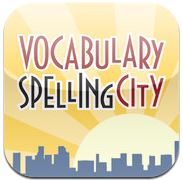 Spelling City iPad and Spelling City Android apps are also currently free. They were created by the original developers at SpellingCity.com. This was once a free site but it is now is a paid subscription site. I am assuming that the apps won't remain free for long? This assumption is based on a personal prediction with no evidence supporting my thoughts. Just letting you know my thoughts.
For teachers who don't have iPads or Android devices you can always access one of my favourite spelling sites online called Spin and Spell. Student love this site because it has a gaming element and it is interactive. This site works well on any interactive whiteboard.