Having taught Tangrams for years, I was very excited this week to find the Tangram video below called 'The Sage's Journey'.
Below are some iPad apps:
Super Mosaic For Kids:  This app costs $0.99. It introduces younger students to the concept of matching shapes to spaces (basic puzzles).
TanZen Lite: This app is free, has a naturalistic look and students like the background music. This is my favourite free tangram iPad app so far.
Tangram World: This app is free. It extends students further than TanZen Lite as students can choose to rotate to the right or left 45 degrees or 15 degrees.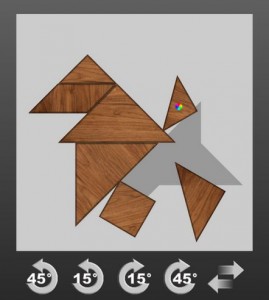 For  Android:
Tangram HD: This is a  free app and the pieces are very easy to manipulate.  It offers a range of puzzles to solve. However, I didn't like the fact that I had to complete a tangram before choosing another.
Online Resources:
PBS Tangram Game
Maths Playground Tangrams
ABCya.com Tangrams