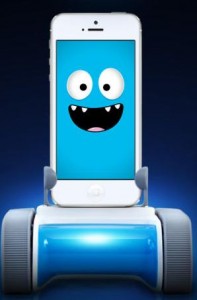 ROMO is a smart-phone based robot with a friendly face and speedy tracks. You can interact and play games with it, drive it around, or use it as a telepresence robot to talk to friend remotely (reference). ROMO is compatible with most iPhone and iPod Touch models and costs around $150 (excluding iPhone or iPod). It is 7.6cm high, 14.2cm long, weighs 0.45kg and can travel of a speed up to 3.2km/h. So what is ROMO?  Watch the video below:

Keller Rinaudo, one of the developers gave a TED talk in April 2013. I have embedded the video below:

So how does this apply to teaching? I believe that there are at least two major advantages for education. The first relates to coding, teaching students the basics of coding. The future of personal robotics is happening today. As per previous post, code may be the new literacy.
The second is for students with special/additional needs such as autism. I feel that Romo may share similar benefits for students that Keepon does. In a previous blog I commented that : '"Keepon may look like a cute toy but its key purpose is to transform lives. It is a social robot that interacts with people and dances when music is playing. It is used to engage with children during various autism research projects". Please note, I have not met a Romo yet, but I would like to.
Permission to use image received 14/1/2014 Liz Demakos Romotive Customer Support