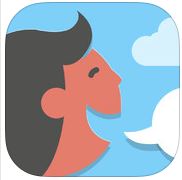 Imagistory is a free wordless picture book iPad app which encourages students to tell stories. Please note, the first two stories are free, additional stories cost $2.00 each. For schools, they have bundled the six books together. Creating a story is easy:
1. Choose a book
2. Add a name
3. A photo of the user is taken
4. The story will automatically start recording after the photo
5. When you have finished, it will be saved to the 'listen' section of the app.
You could use the app as a whole class to create and record a class story or students can create/record individually. Teachers might like to use the app with small groups of students. Each student might take it in turns to say what happens on a page, resulting in a collaborative story. For older students, you may ask them to tell the story from a different perspective. For example, have students use a genre (ie fairy tale or adventure) or past/present tense.