Minecraft  Ski Resort 3.0, a build from Minimumwageminecraft, allows students to ride chairlifts, gondolas and pomas, ski over 65 runs, play min-games to earn money and upgrade ski boots to ski faster. So what does it look like? Check this out:
There are many ways you can use this world in your classroom. Here are a few ideas:
Mathematics:
Students work in small groups to create a map of a section of Ski Resort using 2 A3 sheets stuck together. Groups then share their maps and put them together to create a very large class map of Ski Resort. As a class, you could then create a legend and draw a grid reference using a metre ruler. This collaborative map would make a great wall display. If this is too challenging, students could use the map below and use directional language to describe routes and landmarks.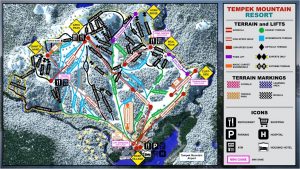 Image Source: LINK
English:
Students could plan, rehearse and record a 2-3 minute video of Ski Resort. You may like students to explain how the map works and particular features (great for developing oral language), or focus on creativity, inviting students to use Ski Resort to record a short narrative. Using Windows 10, students can access a recording tool by simply holding down the Windows logo key + G at the same time; this will bring up the Game Bar.  The Game bar is a Xbox app Game DVR feature which allows you to record and share game clips and screenshots in Windows 10. However, you can also use the Game bar to broadcast, record, and take screenshots of anything  on your desktop.
Students could also play Ski Resort and then read a blog about the Ski Resort, written by Tom Stone. Then you could ask them to make connections between their own experiences playing Ski Resort and those of Tom. Students might research what  a 'blog' is and then write their own blog about Ski Resort. If you have Microsoft Office 365 (like I do at school), students could work in small groups and  use Yammer to set up their own Ski Resort blog, inviting other class members to comment and contribute.  Yammer in Office 365, is a collaboration app. It is a safe and secure place for students and teachers to collaborate because access to a Yammer network is determined by a user's Internet domain, so only individuals with approved email addresses may join their respective network.
Students could also include screen shots in their blog posts. Creating a screenshot in Minecraft is simple, simply press F2 while in the game to take a screenshot. However, if students want to make their screenshots look more professional they can:
– Press F1 to remove the HUD.
– Press F11 to enter full screen mode.
– Press F2 to take a screen shot. the
Here is a link explaining how to install Minecraft maps and a link to download the Ski Resort World.