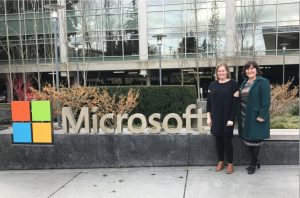 In March this year, I had the opportunity to fly to Seattle to visit Microsoft headquarters for the Microsoft Surface Summit in Seattle, with my Principal, Ms Paddy McEvoy (St Aloysius College, Adelaide).
We were able to connect with and talk to teachers from other countries, which was a priceless opportunity.  It was also amazing to see Microsoft headquarters and meet their collaborative team from design engineers to product managers to education consultants.
One of the things I took away from the summit was a richer understanding of how much detail goes into the development of technology, which the consumer frequently takes for granted.
Then there is of course the detail in advertising. I showed my students the video release of the New Surface Pro, which was released at an event in Shanhai on the 25th of May. They watched in awe. One students commented, "Gee, pretty intense for a lap top". They were also excited to hear that Ms McEvoy already had one of the new keyboards which we bought in Seattle. Intense? What do you think?
For more information about the New Surface, visit this blog site.