The BBC micro-bit was designed by a non-profit organisation, with the idea of enabling children around the world to get interactive with technology. In simplest terms, it is basically a mini computer about 4cm by 5cm which can be powered by either a USB or an external battery pack. Here is a short video introduction:
For those of you who are more technical, it has the following features:
– 25 individually-programmable LEDs
– 2 programmable buttons
– physical connection pins
– light and temperature sensors
– motion sensors (accelerometer and compass)
– wireless communication, via radio and bluetooth
– USB interface
– USB cable
– Battery holder
I have purchased some for my students through the Education Technology Specialists (www.edtech.com.au ) and they cost around $25. When buying them, make sure you buy the micro-bit Go as it comes with the USB and battery holder, the micro-bit itself does not and you can't purchase these separately, ouch!
So what am I going to do with them? Well, I plan to make them part of my secondary Digital Technology program. I will start students programming them using the Microsoft MakeCode website. This microbit page has step by step tutorials which you can work through with your class. I like the fact that you can easily switch between block coding and JavaScript, as shown in the images below.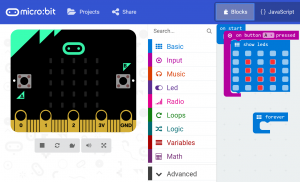 Then I will endeavor to extend the students using the free Java lesson provided by microbit.org. There are also free Python lessons, but I will see if I get to these.